Ways of Email Marketing Which grow your Small Business in 2024

Email marketing, nowadays most of the organizations are running does email marketing campaigns, and it is to beneficiated also. When only then does your mail reach the right user at the right time. 
Else, your letter just the reason for your frustration because if a user by mistake is put in spam then, all emails go in spam. 
If you go through different ways of email marketing, you can able to understand what is the correct way of running an email marketing campaign.
Every business person has a goal and a dream to grow his or her business through digital marketing. 
So, you're In a hurry to send emails to a target of your leads; they used to make so many mistakes, like sending bulk emails to many users, and then why don't you join our business. 
And buying from third party communication providers and sending bulk mail through mail portal like "mail-chip" or "constant-contact". 
I prefer to use this mail service provider can grow from a small business to a significant level you need to care about the budget. 
Especially mail chimp provides free service for a start-up business so that You can utilize this Opportunity, and you can go with Constant-Contact this mail provider's first-month trial version after one month asks you to pay a reasonable amount its depend on your requirement criteria and "email template" designing selection. 
Here, now many of the fresher marketers may have doubts why we have to use a mail service providers. Already we are communicating with many friends through Gmail or Yahoo mail, that mail providers have a limit of letters per one time but through mail advertising or service provide you can send at time bulk emails. 
"A small number of an email id list that wants exactly, what you're offering is better than a bigger list that isn't committed."
Yes, of course, you initially start focusing on a small list of subscribers who are your colleagues, friends, and other schoolmates, etc.
Now, You can target known persons initially then if they are satisfied with your product then they should give their reviews on your social media pages and your Google business page so that other more audience related to your niche give their email id's to you for getting right product service from you.
I know you might have confusions in mind I am explaining all the, but we don't know what the ways of email marketing, actual what is email marketing is it necessary to do marketing through personal mailbox are. 
Yes, it is necessary to do marketing to get good traffic and good conversions for your business. Because most of the people around 70% of Indians are may aware of digital devices they know digital apps, and they have their registered mail id also. 
So, every person is using news, blogs, articles, buying products through emails only and that too offer products only. Email marketing is the best platform for getting engaged with existing subscribers with your exciting offers and updating your features with your existing subscribers.
Through, ways of email marketing you can clear answers to these questions as follows such as 
How email marketing helps your small business to grow your business?

How can we able to increase our sales through email marketing?

Through, email marketing can keep our business top of mind? 

Are customers coming back with regular emails or not?

Can we use mails to establish authorization?

Can we able to establish nurture relationships through email?
Actually, what is email marketing?
Email marketing is a natural, affordable, and effective online marketing tactic that lets you "build relationships" with your customers, members, and prospects through personalized, relevant email communications.
By sending personalized messages, relevant emails, you will increase sales, grow your opt-in email list, and improve your return on investment. Affordable, self-serve email marketing is the best way to attract interest in, build desire for and generate sales of your products and services.
Email marketing combines best practices industry standards with the best technology that allows you to personalize and include relevant content so you can send the right message, to the right person, at the right time. 
Through ways of email marketing campaigns from real people to real people encourage relationships based on value and trust.
Use email marketing when you want to build loyalty and trust with your customers, grow your customers from audiences and your email database, create, automate and send email campaigns, improve your email delivery rates or boost your response ratio and drive sales.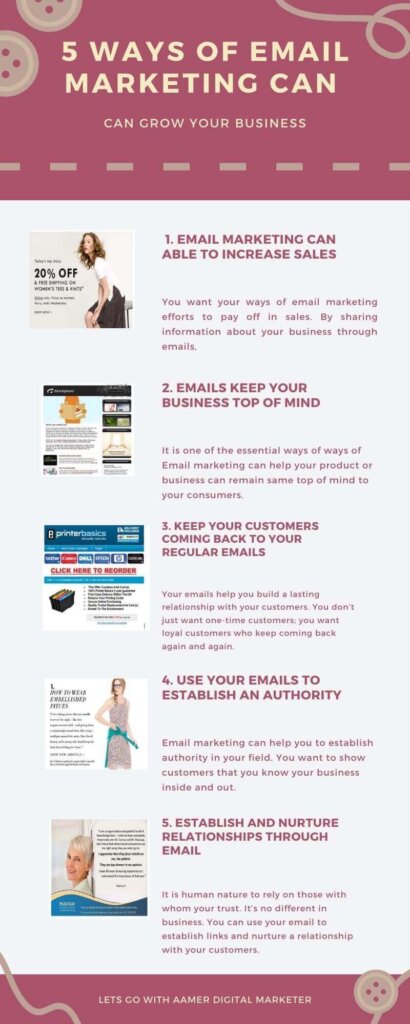 How Email Marketing Helps Your Small Business?
If you're wondering about ways of email marketing and how email marketing can boost your business, you're not alone. Plenty of savvy business minds have pondered that question. We are here to get you the answers you need. What I have discussed above. 
Like any smart business owner, you want to know the ways of email marketing. There's a whole list of ideas, which we'll cover here, but one of the most compelling reasons to use email marketing is its return on investment (ROI).
According to the Fundamentals of  Digital Marketing and Digital Marketing Process, email marketing brings in about $40 for every $1 you spend.
 That's one of the highest ROIs for any marketing.
Email Marketing Can Able to Increase Sales
You want your ways of email marketing efforts to pay off in sales. By sharing information about your business through emails, you help customers see how valuable your product or service is. Which is leads to money in the cash register?
What kind of ways of emails which you bring t in the most no of sales? 
The best way to increase your sales through email marketing is to send a different variety of emails to your customers, but there are a few ways of email marketing that help drive sales more than others:
Promotional email marketing
Nothing excited a customer more than a great deal. Your customer saves a few lines, and your bottom line gets a boost. 
Not bad, right? Keep in mind; promotional emails could not reserve for only things like, 
"Don't miss our fifty percent off sale."
 It is one of away from ways of email marketing A promotional email can offer other perks too, like free shipping or a free product trial. For example, Crew provided free shipping on this email marketing.
"Focus on growing your list all of the time as newer subscribers are more engaged adding to healthier open rates and ROI."                                                         
"Focus on growing your list all of the time as newer subscribers are more engaged adding to healthier open rates and ROI."                                                         
New Arriving Email
When a hot new offer, service, or update arrives at your store, an email spreads the word about this must-have product. 
In your email, include a link, so shopping habituated can make a purchase in an instant time from your website such as Electronics giant, Apple, does this with its new products.        
While these emails can boost your sales, you can't sell 24/7 always. Your customers want more than that. Sometimes they may expect different content, if your customers may find frustration condition if you keep sending purchase mail they will put your letter in spam. 
 If every email you send can get customers one-step closer to purchasing through the mail, which is why a variety of emails is the best strategy because users won't buy your product always. Emails help you build trust with your customers, establish a relationship, not links, & improve brand awareness – all of which play a role in the purchasing process.
Emails Keep Your Business Top Of Mind
It is one of the essential ways Email marketing can help your product or business can remain the same top of mind to your consumers. Emails serve as reminders about your business to customers. Let's say you run an auto body shop and regularly email your customers promotions and car maintenance tips. When Susie gets into a fender bender, your business springs to mind because of your consistent emails. As a result, Susie heads to your shop for repairs. Emails will help you stay in front of your customers regularly, Bastian says.
What kinds of emails keep your business top of mind? There are several. These emails are more about staying in touch with customers and less about selling.
News-Letters
A newsletter of your company is a great way to keep engaged and update your customers about your business. The sky's the limit for newsletter content. And it is one of the best ways from ways of email marketing. You can offer small history lessons about your business, talk about upcoming events, highlight employees, or offer industry-specific news and tips. The newsletter below even offers free downloads.
A Holiday Email Plan
If your company have some holidays So, you can send your customers a holiday email. It can be a three-sentence email that wishes everyone a Happy New Year, or a colorful banner that celebrates the Fourth of July and offers customers a discount. It can be a non-traditional holiday also, too. Either way, a vacation is an excellent reason to reach out, and you can engage with your customers even.
Keep your Customers Coming Back To your Regular Emails                                
Your emails help you build a lasting relationship with your customers. You don't just want one-time customers; you want loyal customers who keep coming back again and again. And a way of email marketing can make that goal a reality. By regularly reaching out to your customers, you encourage them to make another purchase. Just like bumping into a friend on the street can lead to meeting up for drinks later, an email works the same way. The email is a casual meeting, and a purchase is a result.
Which ways of email marketing keeps repeat business booming? 
Again, variety is best, but there are few emails, in particular, that help brings customers back into the sales cycle.
Recording emails
If you have a product or service that is consistently needed, a reorder email is an excellent way to remind customers that it's time to purchase. For instance, if you sell printer cartridges, you can send an email to a customer two weeks before the round is set to run out. It requires some tracking of course, but it's a great way to encourage you to repeat your business.
Through 'We miss you' way of email marketing
You can send a customer has fallen off your sales grid for a while, you can send an email that encourages your audiences or customers to come back. The email can say something as simple as, "We miss you." You might include a discount to entice the customer to go back again.
"Email has an ability for many channels don't: creating valuable, personal touches – at scale."
Use Your Emails To Establish An Authority
Email marketing can help you to establish authority in your field. You want to show customers that you know your business inside and out. Through your creative emails, you can showcase your knowledge without bragging. The best way to email marketing by sending emails that provide value to your customers.
Plus, your emails that provide value get shared. It's like a virtual word of mouth. When you send Bobby a helpful email, he may forward it to his buddy. You're establishing your business as a leader in the industry and gaining customers. There's an array of emails that can develop your vast variety of knowledge. Here's a look at three options below:
How to use Product and tips
This way of email marketing helps your customers get more out of your product by giving them helpful advice. Offer maintenance tips or highlight features of a product. For instance, if you sell silver jewelry, you can send emails that show customers how to keep their accessories from tarnishing. A camera retailer can send this simple email to their customers. The email takes customers to a blog post that highlights and maintenance tips.
Through Industry news
Give your customers a piece of information they care about by highlighting news in your industry. If you sell tax software, send an email about new deductions. If you sell any women's clothing or garment, send an email like the one below that gives women a fashion tip.
Newsletter
A newsletter is an efficient way to share news, tips, events, and even a promotion or two. The mix of information makes your newsletters valuable and so informative. And this is one of the best ways of email marketing to engage and let them buy your product.
Establish and nurture relationships through email
It is human nature to rely on those with whom you trust. It's no different in business. You can use your email to establish links and nurture a relationship with your customers. 
Think of your emails as a virtual handshake or a conversation between you and your existing customers.
Your Emails give you a chance to make a personal connection. 
Whether you're courting new customers or engaging with loyal members, and way of email marketing which is an email campaign is one of the best ways to build a relationship.
 A variety of emails serves this Purpose, but here are a few that are perfect for relationship building:
" marketing makes relationships, not links."
You can Engage Through the Welcome email
When a new customer signs up or registers for your subscribed email list, a welcome email can introduce them to the company and its products or services. And it is one of the ways of email marketing too. It can be a quick welcome email with a promotion, or you can try a welcome email that offers more information.
Newsletter
Your Newsletters can make your customers feel connected to your company. It's a big piece of the relationship puzzle.
Testimonial email
Use your one of your way of email marketing to share your customer reviews. By sharing a testimonial, you reaffirm your customers' choice in your business. That is helpful when you're nurturing a relationship. 
Here, Above I covered all the topics which I said at the beginning of the article such as how email marketing and way of email marketing helps you from small business to grow into high in 2020. If you have any confusion or doubts you can start a discussion below the comment box; I will follow up on your comments.