Facts Copywriter How to Write a Quality Content for blog?

How to write a Quality Content for your blog?
As you know about Content marketing strategy without copywriter as I discussed you in the previous article, now for implement a plan to get engaged customers to your business you must need to know about how to write quality content for your blog.
Content is what, content is nothing what you're feeling about your business product, what your experience with that product that you have to write in the blog and make them impressive with your words and make them ready to convert to buy your business product or make them your subscriber for your blog. 
As simple as that, saying is more than comfortable than doing practical is easier then easy, if you kept in mind your target when you're sitting to write an article. 
Write with your heart feeling, write with your own words of what you have experience in content don't be thinking about how to write quality content. 
Users may feel confused or else laugh at us if you have a passion for writing then naturally you will correspond with your confidence and correct content only.
Every Normal person English average graduate or intermediate student can write good quality content. 
Because every student may feel in their heart and experience or willingness to write, the most important reason why they are not writing because  
Shyness about content, if we publish our content blog, all audience may laugh at us. Because of they fresher most probably only Indian students may feel about this.
But now, no needs to fear or shy just what have in mind explore your talent or skills through content.
It happened with me already  
"People don't think what are you doing, people interested to know why are you doing."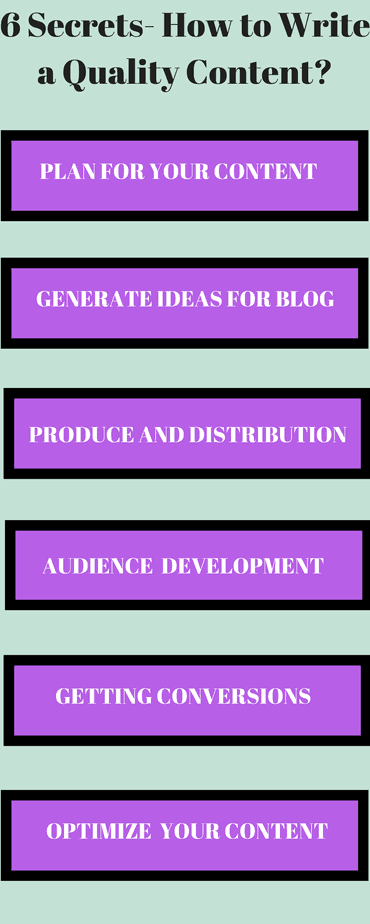 If you are a housewife, old aged person or else you are a student also no problem, just you need a seat with your laptop, and decide about the niche of your blog on which category your write today article. 
Just focus on your article topic and your target audience and research on google what the top 10 blogs written about your blog topic. 
Get some knowledge from that blogs and know start writing for your blog. 
Initially, every copywriter or blogger might be doing mistake for writing a vast big article, if you kept in your niche of your blog, your main targeted audience then you no need to think about how to write a quality content. 
Why we need to fear about content, whether our written material is a correct "Grammarly" or not and well "plagiarism "or not. 
After reading this article you're all doubts, shyness, fear and confusion will go. If you get to know the answers to this questions about how to write quality content for your blog:
How to Plan for write quality content for your blog?
How to get Ideas for your blog?
How to produce and distribute your quality content?
How to develop your audience for your blog?
How to make a conversion to your blog?
How to Measure and optimise your quality content to get good results?
"Writing is not about using lengthy and big words to impress; it is all about impressively using simple words".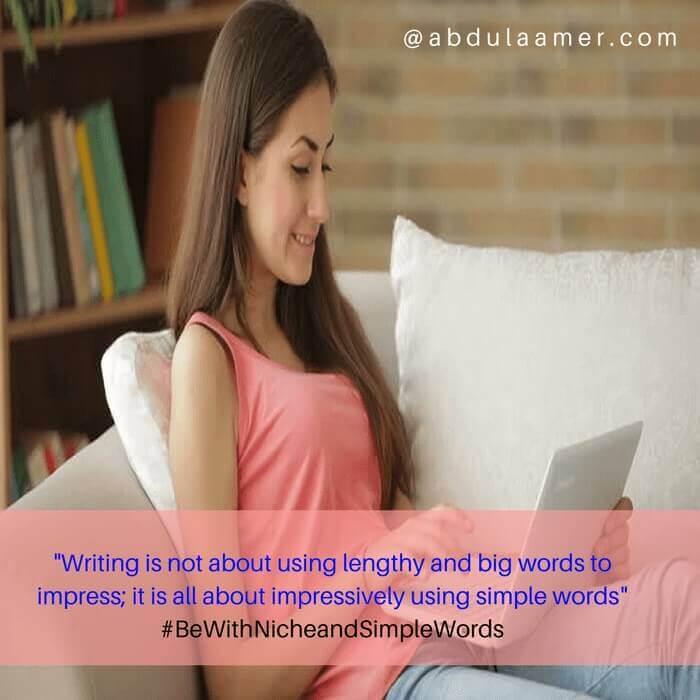 Quality content needs what
–
A reasonable explanation or information of your product or service
Should cover all the questions of audience which they have in mind
And it should mean full and easy to understand to audience and google bot
So, your article might approve as a Quality Content it may be put on indexed in search engine result list.
But, after getting to know the main facts of Quality content, you can have some questions on a mind, after writing the quality content think about content marketing process.
How to produce and distribute content, how to develop an audience for your content, how to make conversions for your blog and how to measure and optimise your audience.
Here, In this article, I am going to explain and discuss with you the six minor secrets of copywriter which is useful to us, and it is best solutions for how to write a quality content for your blog.
6 Facts Copywriter needs for How to write a Quality Content for blog?
Plan for how to write Quality content
The primary objective of content marketing is to get output about your content that pulls your users from where they are today, moves them through or inspired them through to the buying process and converts them into your customers.
Writing content is not a big deal, the main big contract for blueprint to prepare a plan for which product or service your writing, for developing a plan for content you have to collect some information in roughly
Which type of category business of yours?
Who is the targeted audience for your business, professionals or traditional retailers?
Which city people?
Which gender, male or female?
What is marital status, married or unmarried?
And, after that think and collect some taglines for your blog after suggesting with your colleagues and researching on internet
The most important secret copywriter tip for how to write a quality content for your blog – just collect all information above
And start a "keyword research process" go to google keyword planner begin searching a right volume keyword for your blog.
Which will be more useful and help you to prepare a quality content for your blog and to make decisions to put your blog title. Depend on mostly searches volume and competition for your keywords only. You can able to decide a blog title.
Just you have to focus and target a correct customer which is most valuable diamond spot for your business Venn diagram which shown below
Your content to reach that In-centre diamond then only your content should able to attract them and convert them to your customers.
It pulls in prospects, because the content addresses there interests.
It is a subject matter and that your information gathering and has an authority and how much credibility around in your content.
While the top of your funnel content here is not about your product, It is pointing toward your product or service and thus direct prospects their journey to the funnel.
Create a correct fixed time to writing your blog, such as most of the people would think if today not possible we can do tomorrow.
If you think like this, always it happens tomorrow only, and then morning never comes today to start writing your blog.
So, try to find out your relaxation time when your mind would be work or active willing to have the patience for writing content.
Most of the people lose their patience while writing content. Because they make mistakes, they won't sit on their relaxation, peaceful environment and flexible timings.
"Quantity content doesn't matter for convert an audience, Quality of your time and quality of your content matters for your audience."
Think about the niche of your content, write down your key points features of your topic, before that collect further highlights of your first blogs related to your blog title in search engines.
Write down those features also in your rough document design an "infographic" image for your blog which explains everything of your article, and user easily can understand by seeing that picture; it highlights your blog features.
Write in simple words which can able to understand quickly and write a content more elaborate and entirely in explanation so that you can able to target your exact audience and goal of your mind. For what you're writing content and why your writing etc.
Ideas for how to write Quality content
The most significant main secret of a copywriter is to get ideas while writing content and how to get plans everyone may have this confusion.
You only not many of content writers may be confused while writing to generate ideas,
To make thoughts come into your mind, you have to think like as an audience; then only you can able to get ideas about that level.
Here few of the critical points you need to focus
Think your audience and encourage them
Think with your heart feeling
Think about your competitor services and value of their products
Think about your product features or functions
And at last how to conclude about your blog.
Remember bulk of your content is going to your customer's interests not to own your products. So, the best way to understand to generate your customer interests.
These are best practices for this process.
Engage your colleagues
Try to get a suggestion, or thoughts with your friends, colleagues and some more interested persons who are interested in your product for buying, In friends of friend a few people would be available to give you a suggestion and feedbacks for your product.
And when your blog would be ready to publish, you need to try to ask him to review about his interest on your blog what he is looking for your product either he is interested or not.
So, your audience also have same feelings or thinking. As a customer for your product.
Then your content would be ready for quality content.
Social listens
In social media sites, nowadays most of the people are raising and updating their status in their profiles
Asking about either this product review for buying in Facebook, Twitter, LinkedIn and Forums
Collect that information and answer their queries make them inspired by your answers.
Buyer interviews
Get the feedback interviews of buyers from video channels about your competitor's product reviews.
With these above three best practices you can able to get a lot of information to easy to generate ideas for your blog while writing quality content for your blog.
Produce or Distribute Quality Content
As you got the ideas for your blog, now you have to think about production and distribution for your blog, and this is the most critical fact after knowing about how to write a quality content for your blog and make the production and distribution incorrect audience.
Your ideas can produce in many types content format like through graphic designing images, video ads, and through articles.
But, you have to produce a quality so concentrate on both three formats production.
Create an infographic image which is most attractive to an audience and easy to understand also.
Upload a video related to your product which tells about all the features and how to use that product also.
And at last, produced an excellent information great content which explains everything and inspires to your audience and makes them convert to your customer for your product.
For distribution of your quality content blog, you have lot social media channels, like Facebook, Twitter, LinkedIn and Instagram etc.
Obviously, you might have to question in mind after complete your content. Just go through this "how to distribute in social media channels."
You can easily understand about social media marketing and distribution and try to answers in forums. Many forums available but nowadays only "Quora", is the most popular forums. In Quora lot of people ask the questions for different queries
You can answer it on Quora discussion, and you can get a satisfied customer which helps you in writing quality content for your blog.
Developing an Audience for your Quality Content
Now, you are content marketing process half of the stages completed you distributed content on different social media sites.
But now it is the most hectic task for this process and one of an essential key for how to write quality content for your blog?
The first half of your quality content task is over, and the other half is getting visitors for your content which is the audience development component for your blog. Audience development breaks down into four major topics
Influencers and Audiences
Influencers are an essential component of audience development. Begin by identifying the "influencers" in your space. The individuals and organisations in your topic that have lots of visitors in their sites, following the twitter accounts, Facebook pages, etc.
Research about what the discussion is going on audience and influencers profiles about your blog. You will get audience development component to write a quality content.
Conversions and Nurture for your Quality Content
It is the most and essential hidden secret of copywriter which is a solution for how to write quality content for your blog and make conversions on your blog.
Don't make a mistake like other bloggers do while reading blog content a "pop-up box" will come with this many of the audience get irritation.
Try to put them concentrate on your content for reading in the middle of your blog; you can ask them to get free newsletters subscriber form
And you can ask them at the end of your content about if they inspired or connected with your content they should buy your product.
Or else you can pull them for conversions for more suggestions to buy or select a suitable product
You can get your audience through your customer's query form. Etc.
Measure and Optimize for your Quality Content
Here, at this stage, all the tasks are completed which would help to find the solution of how to write quality content for your blog.
Measure all your content processing steps either fully explained or elaborated or not all the topics are covered or not.
And check whether the content is on SEO perspective or not which is nothing but you can able to search engine optimisation process or not and follows latest updates of "on-page and off-page optimisation" rules or not.
Here, I discussed and explained in simple words all the questions and confusions which may arise most of the people fear about how to write a quality content. Best of luck and go ahead start content write process to make quality content for your blog. If any doubts or confusions may come, please raise your confusion in below comment box, sure I will follow up your comments.