Facebook Ads or Google Ads Campaign for a Startup Business?

Facebook ads or Google Ads?
Having only one website is not enough to run your online business through digital marketing, you have to be aware of which is the best advertising platform to run campaign Facebook ads or Google Ads for your business.
If your business person, you should know about the usual basic strategies of online business which is the best advertising strategy for your business. Such as, you know about this century is entirely on digital transformation technology for every activity like buy, sell, or auction for everything you need an internet service provider. Even for calls also through digital communications.
So, billions of active users are available on daily basis on Google, Facebook, and YouTube. No one doesn't know about These three top rank busy website Google, Facebook and YouTube are the best sources to grow our business when smartphones and cheap internet enters in our daily life that day only every ordinary target user is addicted to using social media on smart touch screen phones.
As you know both Facebook and Google have its own advertising network system to run ads campaign to generate business leads and for sales. But which is the best ad campaign for your business that's the important fact for your advertising, suppose you have a company of fashion events and art galleries.
In most cases Facebook is the best platform to run ads for fashion events because most teenage college students are only eligible for fashion participation. So, no adolescent person will search on google or else read blogs or articles they plenty of hours stay on Facebook just for doing fun activities.
But from both the advertising platforms you can able to target geographical city locations, and you can track demographics genders, age limit audience, etc. Compare to all similarities of advertising platforms
You might have questions in mind I am mention which is the best for the advertising platform but I am not discussing How to decide and how to create a plan and what is benefits through this advertising.
How to reach the audience for your Ad Campaign?
What are the targeting options for this Platform?
How to do mobile advertising for this campaign?
What is your ROI (Return on Investment)?
By these questions, everyone can quickly decide either Facebook Ads or Google Ads is the best for business.
Reach your Audiences:
To reach your target audiences for your business, first of all, you have to research your business competitors what they are following either they are getting traffic from organic or paid traffic.
After doing competitor analysis, If your competitor through paid traffic is getting good results check from which advertising platform either Facebook ads or Google Ads campaign.
Research on keyword planner what are the most volume keywords and less keyword efficiency index value. After getting the adequately focused keywords then you can prepare your ad campaign structure for Google Ads
Here you can have a question in mind in Google Ads both search ads, display ads, video ads, responsive ads, and shopping ads.
And for Facebook why we should search in keyword planner, yes for a Facebook ad campaign, you can create your description and headlines. But limits you have to follow for Facebook Ad Campaign Title 25 Characters and description 135 Characters. No need to search in google keyword planners and other tools but this ad campaign can run ,around the Facebook area only.
Yes, you can run in many Google Ads ad networks, but it depends on your business requirement which category of your business.
Suppose if you have an online garments store (eCommerce) business then you can get good results through display ads, and shopping ads only.
If you have a tutorial video for food chef, online training or else institute then you must and should go with video ads only remaining other ads are also good, but video ads may give you good returns for your campaign.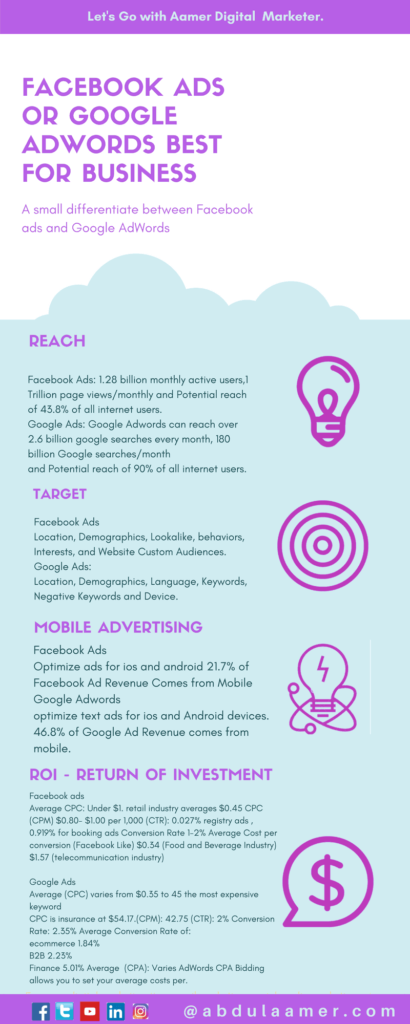 You can search ads for every kind of business, but you have to research on keyword planner if you get good trendy volume focused keywords on your business then you expect the right clicks, impressions, and conversions for your search ad campaign.
And Search ad campaign structure have limits of two headlines and descriptions Headline1 and 2 both are below 30 characters and description are below 160 characters.
For understanding the Ad network campaigns, you have to know about the Basic Fundamentals of Google Ads and Strategies.
Yes, In Facebook Ad manager also you can able to see any ad campaigns like promoting for a page, clicks on a website, lead generation, brand awareness, reaching drive, etc. like this many campaigns you can able to see on Facebook which starting your campaign for your business. It depends on your type of business what you're expecting from your ad campaign. Suppose you have instituted or else you have development services campaign your running campaign to generate leads of clients or students then you will run points campaign in Facebook, Or else you're expecting to create views for your YouTube video then you will run a campaign of clicks to a website. If you understand the Strategy of Social Media Channels, you can follow easily Facebook ad campaigns.
Targeting methods
It is the second significant fact to decide Facebook Ads or Google Ads is best for your business to succeed.
In the case of the targeting concept, both are in the parallel mode because you can focus on location, interest's people, demographic age, and gender type of people and you can target Facebook one extra more Lookalike option on Facebook.
This means you can target the Facebook users through Facebook ad campaign who are doing some activities on Facebook by his or her operation you can target the Facebook user by lookalike campaign option.
Whereas in Google Ads Expect search ads campaign remaining other ad network campaigns you can target the google third party websites users and Google users also. Depend on your business category interest of audience you can target that audience through your Google Ads campaigns.
You can get to know how to Google Ads and from where we can get this category people are showing interest in your website.
Mobile Advertising
Why most of the businessmen are showing interest in mobile advertising, and this is the third essential fact of Facebook Ads and Google Ads, nowadays everyone an ordinary low-class person also having a smartphone in there hand. Every average person is a mobile user now.
Now our central concept is how to run a mobile ad campaign which is the best platform for mobile advertising.
It must and should depend on your type of business suppose your product uses by all kind of people not only for commercials corporate's. So, you can run mobile advertising on Facebook, and through a remarketing concept in Google Display ad campaign also you can expect excellent conversions for your ad campaign.
Because your business remarketing strategy for your display ad campaign target to your right audience who are mostly seeing your website and to those people mobile screen pop-ups the ad campaign.
Whereas through Facebook Ads also you can advertise on mobile Facebook and ad campaign target on the user interest newsfeeds area if they are interested they must and should click on your campaign post.
Return on Investment (ROI):
And this is the last and significant fact of Facebook Ads or Google Ads concept, yes because every businessperson worried about the return on investment for your campaigns.
Return on Investment depends on your type of business if that business is so competitive and it may be a chance to invest more and less performance of it.
But always before running any successful campaign, all digital marketers have to check each one drive so that can able to decide which is the best campaign for the return of investment.
In most cases, search ad campaigns will do good work because Google Ads charges less cost per click on a search ad campaigns and the user needs to know about that business by using your search ad group keywords then only your ad campaign visible in search engine results lists.
If a user clicks then only deduct the budget from an account and you can get the right return on investment per user. Suppose you go with display ads for impressions and clicks just your cost will deduct, but you can't expect any lead. But whereas in search ads you can expect excellent returns. If you know how to run Google Ads campaigns, you can understand the performance of the investment concept.
But through Facebook, you can expect similar to Google Ads because before starting any Facebook Ad campaign while preparing campaign structure Facebook will ask you per X amount of budget you can expect from your targeted Facebook audience x amount of clicks, x amount of reaches, x amount of likes for your campaign. So, there may be changes to get a good return on your investment on your drive.
On every type of campaign both the Facebook ads or Google Ads you have to figure out the calculations of your cost per click, bid amount, click-through rate on your drive.
Both the type of advertising Facebook Ads or Google Ads platform will give you instant results but which is right for your business is the primary task to decide.
Yes, your friend will give every tip for your task initially don't start any advertising campaign start three months for your business website work on Search engine optimization process. If you know about 2020 SEO updates, you can get the priority of organic traffic through SEO process. After review the Analytics report for your website from which sources you're getting sessions for a site you can get and finalize efficiently.
Then you can start your advertising strategy easily without any confusion or hesitation.
Hence, I have explained everything about Facebook Ads and Google Ads campaigns process in detail. If you have any doubts and confusion, you can raise your query in the below comment box for discussion I follow up on your questions.