Benefits of Google Ads and Online Advertising and What is SEM

Benefits of Google Ads and Online Ads
SEM stands for Search Engine Marketing, I am discussing with you guys today about Benefits of Google Ads and Online Advertising. SEM also one of the modules of Digital Marketing. 
Through Online Advertising in search engines. For every search engines like Google, Yahoo, and Bing etc. Doing Marketing through Online Advertising or Online Marketing in search engines tools is called search engine marketing. 
Most of the people may be confusion arise in mind that, search engine optimization will do something, yes, of course, you will get confused because in search engine list both search ads list and regular search engine list would be present.
SEO is a long-term result and free organic method. Whereas SEM is an instant result, Search engine optimization is organic search results, whereas search engine marketing is an Inorganic or Paid search results, 
Here below screenshot image can clarify your confusion or doubts about SEO and SEM or differ from organic search results and paid search results 
Benefits of Online Advertising 
Advertising can do through online marketing which is more flexible, cost-effective and more reachable than the other traditional marketing or offline marketing is called Online Advertising. 
Which can be able to check and control our business analytics or insights. Whereas conventional marketing high cost, fixed time plan and not reachable.
The main difference is just cannot able to monitor and manage your business, cannot able to check your business website data analytics or data management. 
Whereas through traditional marketing you cannot find your targeting audience, 
Rather getting confusion about targeting audience just have a look about the fundamentals of digital marketing and the benefits of digital marketing which will helps you to grow your business. 
In Google Ads, you can target and find who is your interested in your products from which city, which demographic age or gender persons, he or she relates to which category. 
In sometimes you may get frustrated, after listening bad irritating words from your customers when you're selling your products in a stall, whatever how much amount online advertising can create in major three factors; 
we need to follow some steps such as to run online ads we need to occupy a space on the internet on rent by paying some amount and run a campaign when your campaign completes you can get a return on investment of that drive. 
Three significant steps we need to take care. Such as 
Content Creation: content creation related to your business offers and services. Such as image content for display ads and Headline1, Headline2, Description and Ad extensions for Google Ads.
If your running ads in social media networks like Facebook, LinkedIn, Twitter and Instagram. Depend on characters limit we need to create. 
Media Planning: for every campaign to run, related to your business we need to plan or search for social media networks, for Facebook users we need to create a different strategy, for Twitter, and same as Instagram followers.
Media Buying: To run ads on digital marketing we need to buy space on different digital channels. 
ou invested in promoting your ads, then also you can't get any figure of your customer satisfaction. Whereas through Online advertising this many ads types we have and they can give you business analytics report to you, those are follows 
Online advertising can run in different ways such as Search Ads, Banner /display Ads, Video Ads, Ads on Gmail, Ads on Yahoo mail, Social Media Ads and Native Ads.
Search Ads, Banner or Display Ads can be run through Google Ads on targeted peoples, search partner websites, Mobile apps etc. Video Ads which visible on Video channels like YouTube,  Dailymotion etc.  Gmail and Yahoo mail Ads are visible on email user interface part at the top of our email list.
Native Ads which is something twisty which is visible in between the content of a website. 
Social Media Ads will run and managed its own specific social networking sites like Facebook, Twitter, LinkedIn, and Instagram etc.
What is Google Ad Words?
Google Ads is one of the products of Google. Which is one of the paid online advertising tool, and one of the critical module of digital marketing? Google Ads is Google's paid online advertising model that uses a bidding system for your advertisement to appear at the top of the search engine results. When you advertise you tell to google what keywords or phrases you are interested. Google Ads is a terminology or marketing tool in right time, right place and right audience advertising your product through online is called Google Ads.
Google Ads is called  " Search Engine Marketing  " is paid organic search results, if you spent to search engine then you will come up the top of the search engine, then your ads shown on search engines. If clicks happen then only your amount deducted from account threshold, that's why this concept is called Pay per Click (PPC). When somebody searches for those Keywords, Google Displays relevant advertisements. If your banner displayed, if somebody clicks on that ad to bring them to your website then only you need to pay.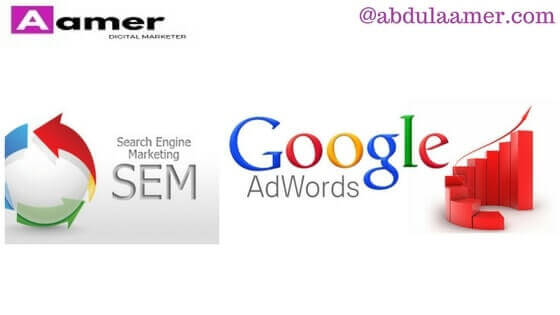 Benefits of Google Ads
Online advertising allows you to show your ads to the people who are likely to be interested in your products and services. And you can able to track those people clicked or visit on your Ads. Online advertising also gives you the opportunity to reach potential customers as they use multiple devices – desktops, laptops, tablets, and smartphones.
Target your Ads
Targeting gives you the ability to shows your ads to reach people with specific interests- namely, people who are interested in our products and services- and show the relevant ads. Makes your Ad Word campaigns even more targeted by using keywords, ad location, age, location, language, days, times, frequency and devices.
Control your costs With Ads when only you will pay, when someone clicks on your Ad.
Measure your success
In Ads, you can measure every success of your Ads campaign. If someone clicks your ad, you'll know.
If they clicked your ad then did something valuable to your business. Purchased your product, downloaded your app, or planned in order, you can track that too.
By seeing which ads get clicks and which ones don't, you will also quickly understand where to invest in your campaign. That in turn, you can boost the return on your investment.
You can get other valuable data, like how much costs its taking on average for advertising, which leads to your customers, online purchases or phone calls.
And you can also use analytics tools to learn about your customer's shopping habits how long, for instance. They tend to research your product before they buy.
Manage your campaigns
Ads also offers you tools to manage and monitor accounts easily.
If you manage multiple Ads accounts, a My Client Centre (MCC) Manager account is a powerful tool that could save your valuable time. It lets you quickly view and manage all your Ads accounts in a single location.
You can also manage your Ads account in offline mode with Ads Editor, a free downloadable desktop application that allows you to quickly and conveniently make changes to your account.
With Ads editor, you can download the report or campaign information, and you can edit or can do modifications in structure. And you can upload it into Ads account you can use it that modified Ads information for your Ads live campaign.
Here, I discussed with you guys about the Benefits of Google Ads and Online Advertising. If you have any query or doubts please raised your question in below comment box will follow up and start discussing.