Benefits of Social Media Marketing and What is Social Media?

Benefits of Social Media Marketing
Benefits of social media marketing are so many lists of benefits have to discuss with you guys, actually before knowing the benefits of social media.
I hope you know about the primary reasons for social media marketing and the fundamentals of digital marketing and its benefits.
So, you can easily implement a social media strategy on your business and grow well.
What is Social Media Marketing?
Social media marketing is a process of marketing through Facebook, Twitter, LinkedIn, Instagram, YouTube, and many more favorite social networking sites to engage the people and attract them to this networking sites better than traditional marketing.
This social media strategy can able to interact with the targeted audience in a personalized and dynamic level than through traditional marketing.
A social media marketing is a strategy where you can engage your customers and convert them to sales by maintaining own blogs for reading habituated people, YouTube channels for video viewing habituated people, and through photo sharing in different photo sharing social media channels those who habituated for maintaining in social networking.
Most of the people have doubts and questions in their mind, what is social media marketing?
By reading this article, you can understand quickly, let us discussed with you a real-time example one of the start-up business, which launched at many years ago, but they did not receive any revenue yet.
Since three months before they contact me and we had a meeting on their web analytics point of view, I go through all tactics of a point of view such as organic traffic, social media traffic, and sources etc.
So, at last, I got to know the reason for that marketing strategy, they promote everything from traditional marketing and on more for brand awareness like investing for banners, flexes, events, and stalls.
How can be a good result they will get?
Business-related is carpooling and ride sharing which is a mobile app entirely in online and social media users people; I gave them best strategy, for blogs, social media post sharing at the right time, right place and right people.
Social media marketing is not only full of stuff but should be attractive, consideration and convert them to sales, through our social media sites.
It can also be as complicated as having a full campaign that encompasses blogs, Twitter, Social networking and viral videos through YouTube.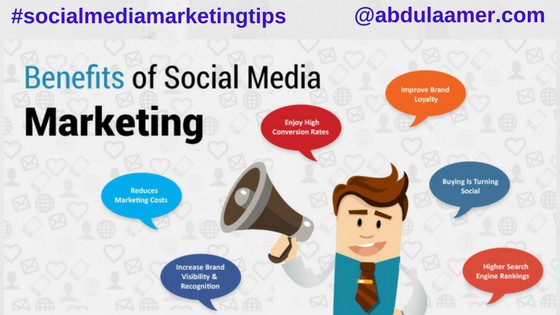 Benefits of Social Media Marketing 
A vast potential of social media marketing is increasing to sales, but a lack of understanding of how to achieve those results.  
Here, have a look below some of the benefits of social media marketing can grow or improve your business.
Increased Brand Recognition
Every opportunity you have to be creative on your content and grow your visibility is valuable. 
Your social media networks are just new channels for your brand voice and content.  
You need to design an image in such a creative way that users can be aware of image content on social media. 
Such as on Twitter if you posted your content, initially users don't know your brand and your products. 
They just saw your creativity Image content and text content and got attracted to your products awareness. 
Improved your brand loyalty
According to social media reports published by texas tech university. Brands who engage on social media channels enjoy higher loyalty, from their customers. 
The report concludes companies should take advantage of the tools social media gives them when it comes connecting with their audience.
A strategy and social media plan could prove influential in morphing consumers into being brand loyal. 
More opportunities convert
Every post you make on a social media platform is an opportunity for customers to transform when you build a follower. 
You will simultaneously have access to new customers. And old customers. And you will be able to interact with all of them. 
Every blog post, image, video or comment you share is a chance for someone to react, and every reaction leads to a site, and eventually, a visitor may convert.
Not every interaction with your brand results in a conversion. But every positive communication increases the likelihood of an eventual conversion. Even if your click-through rates are low, and share no of opportunities you have social media is significant.
Higher Conversion Rates
Social media marketing results in higher conversion rates a few distinct ways. Perhaps the most significant its humanization element. 
The fact that brands become more humanized by interacting in social media channels. Social media is a place where names act as people do, and this is important because people like doing business with other people, not with the companies.
Higher Brand Authority 
Interacting with your customers regular is a show right faith for other customers When people go to compliment or brag to product or service. 
They turn to social media. And when they post your brand name, new audience members will want to follow your updates. That, more people talking about you on social media. 
The more valuable authoritative your brand will seem to new users. If you can interact with significant influencers on Twitter or other networks, your apparent authority and reach will skyrocket.
Increased Inbound Traffic 
Without social media, your brand traffic is limited to people already familiar with your brand and individual searching for a keyword, you currently ranking for every social media profile add is leading to your site. 
And every piece of content you syndicate on those patterns to other opportunities to bring the new visitor.
The more quality you explore in social media, the more traffic you generate through inbound traffic, more leads and more conversions you may get.
Better Search Engine Rankings 
SEO is the best way to capture relevant traffic from search engines. But the requirements for success are always changing. 
It's no longer regularly enough update your blog. Ensure optimized the tags and meta descriptions. And hard links point to your site.
Google and other search engines may be calculating their rankings. Using social media presence as a significant factor, because of high brands almost all use in social media.
Richer Customer Experiences
Social media is a core, is a communication channel like email or phone calls. Every customer interaction you have on social media is an opportunity to publicly demonstrate your customer service level and enrich your relationship with your customers.
Improved Customer Insights
Social media is also giving an opportunity to gain valuable information about what your customers are interested in and how they behave. Via social listening, for example, you can monitor user comments to see what people think your business directly.
You can segment your content syndication lists based on topic and see which types of content. You can measure conversions based on different promotions and finally, they got good revenue.